Germany's
innovation leaders 2019
Wahl GmbH has been distinguished as one of Germany's innovation leaders 2019 by F.A.Z. Institute for Management and Market Information. The long-established company from St. Georgen in the Black Forest is a subsidiary of WAHL Clipper Corporation USA. 240 employees currently work at the company's German location, where both Moser and ermila brand hair clippers are developed and manufactured. These clippers have been synonymous with superlative quality, innovation and precision for more than 70 years. The Moser Profiline brand in particular was fundamental in enabling Wahl to prevail in the analysis of leading innovation companies in Germany. This achievement is attributable first and foremost to the state-of-the-art technologies, highly-developed functions, ergonomics, pioneering product design, superlative performance and premium standard of quality. Yet the key feature of every hair clipper is the precision-ground blade set. Made in Germany, the precision and durability of these appliances are undisputed. Being distinguished as one of the most innovative German companies of the year again sees Wahl setting the standard on the German hair cosmetics market. "Innovation at Wahl began exactly 100 years ago when our founder Leo J. Wahl registered a patent for the first electric hair clipper. Back then it changed the face of the entire industry - and that is still what we strive for in our endeavours to this day," explained managing director Jörg Burger. "We are also at the forefront of the hairdressing market with our strong Moser brand and are correspondingly researching future trends and technologies. That this is worth every ounce of effort is clear from the plethora of product awards and honours, including this innovation award. The priority for us is ultimately the trust of our loyal customers, who recognise that we create and constantly technically optimise products specifically to meet their needs and strive to enhance their day in the salon with every single innovation," declared Jörg Burger.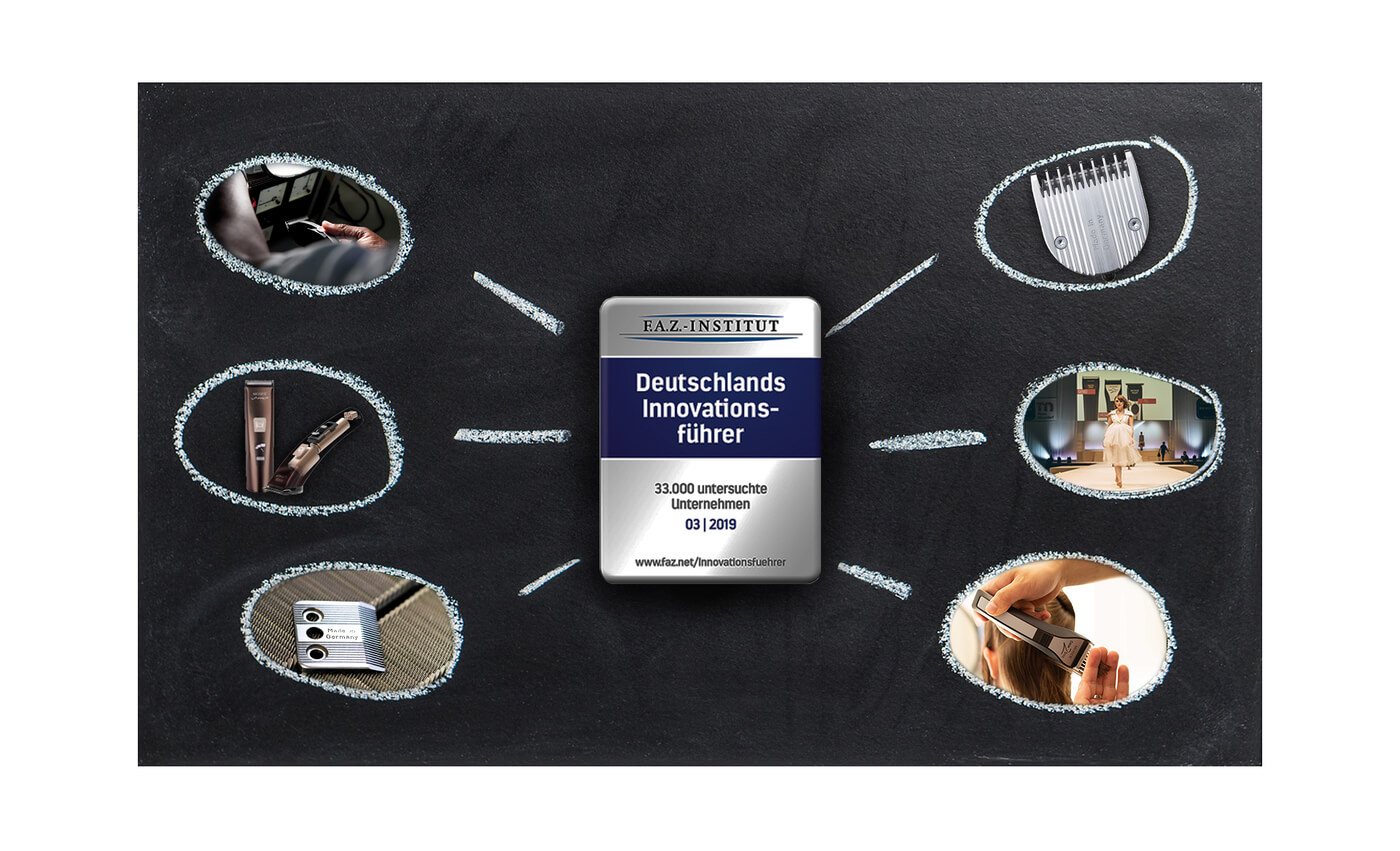 "Innovation – Made for you. Invented in the Black Forest!"
This major innovation award will also become visible to the industry in association with the Moser and ermila brands going forward thanks to the commensurate F.A.Z. Institute seal. The awarding panel were also impressed with the comprehensive service the innovative Black Forest brands offer. In addition to the two-year guarantee on the latest LiPro2 and Chrom2Style clippers and in-house repair and maintenance with short delivery times, the company also offers seminars for hairdressers. All in all, clear confirmation that Wahl attaches great importance to and prioritises the needs of its customers. In line with the motto "Innovation – Made for you. Invented in the Black Forest!" many more pioneering product innovations are in the pipeline at the Black-Forest-based innovation leader.
High-tech appliances and pioneering technologies thanks to top-notch technical and research specialists.
"Innovation stems from fortitude! A factor that needs the entire company to get behind an innovation and also requires top class specialists. In Baden-Württemberg we benefit from extremely robust industries with global market leaders and as a result enjoy greater access to specialists with extensive know-how and experience. The close proximity to universities and research centres also provides access to highly qualified employees," explained Stephen Gunson. "For us, innovation also means being open to new approaches and concepts, which is why we collaborate in a variety of areas with universities, hairdresser associations and external experts. Given our desire to pool expert knowledge and exploit synergies, our choice of suppliers is also decisive for an innovative approach," added Gunson.